25DU
Tandem Dual Gooseneck Dump
The 25DU Tandem Dual Gooseneck Dump Trailer is the trailer that dreams are made of—as long as you're dreaming about hauling massive payloads with ease. Designed to handle the needs of professionals in construction, landscaping, and other demanding industries, the 25DU is meant to take on the toughest loads thanks to its reinforced construction and worry-free dual tires. Heavy machinery? No problem, it's equipped with ramps. Huge loads of trash, sand or gravel? A tall dump box with 4-foot sides that's capable of a 45° dump angle makes that task a breeze. With a load capacity of 17,830 lbs, the 25DU is a versatile powerhouse of a trailer that'll have your back through thick and thin.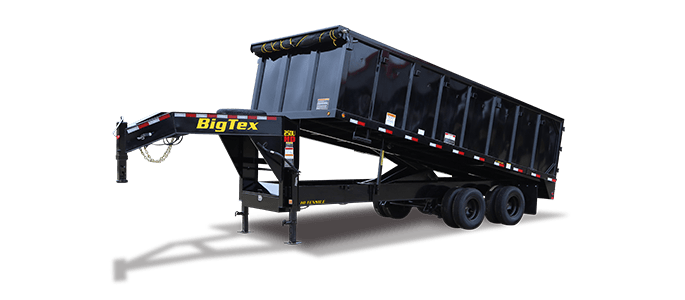 Equipment Ready

Comes standard with 4 D-rings to secure equipment and available ramps, ready to get your heavy equipment to the big job

Effortless Maintenance

Forward, self-adjusting brakes make brake maintenance a breeze. The system automatically adjusts the brake shoes as they wear down, eliminating the need for manual adjustments.

Massive Payload? No Problem.

The 48" tall dump box with 12-Gauge sides and formed channel supports can handle the biggest loads
| Model | Pull Type | GVWR | Empty Weight | Cargo Capacity | Bed Length | Bed Width | Tongue Length |
| --- | --- | --- | --- | --- | --- | --- | --- |
| 25DU-20 | Gooseneck | 25900 lbs | 8070 lbs | 23.7 lbs | 20' | 83" | 98-1/4" |
Standard Feature
Available Options
Axles

2 - 10,000# cambered axles with Oil Bath and Valcrum Caps

12,000# Axle Upgrade (GVWR Remains 25,900#)

Brakes

Forward Self-Adjusting Electric Brakes on Both Axles

Suspension

Heavy-Duty 30,000#, Adjustable

Tongue

12" I-Beam

Coupler

Square, Adjustable Crank 2-5/16" Gooseneck Coupler

Safety Chains

3/8" Grade 70 w/ Safety Latch Hook (2 ea)

Jack

Dual 12,000# Drop-Leg Jack (Side Wind)

Dual 2-Speed Landing Gear

Frame

12" I-Beam

Cross-Members

3" Channel on 16" Centers

Floor

10 Gauge Smooth Steel

Ramps

Not Included

8' Slide In Ramp Package

Stake Pockets

Stake Pockets Along Both Sides (Quantity Varies by Length)

Trailer Plug

7-Way RV

Lights

Recessed, Grommet-Mounted L.E.D. Lighting

Wiring

Sealed, Modular Cold-Weather Wiring Harness

Tires

ST235/80 R-16 Load Range E Radial Tires (Dual)

Tire Upgrade (ST215/75 R-17.5 LR-H Dual) Includes Spare

Bolt Pattern

8-Lug

Wheels

Black Mod Steel

Spare Mount

Side Spare Tire Mount

Spare Tire

Spare Tire & Wheel (ST215/75 R-17.5 LR-H)

Paint Type

Professional Finish w/ Primer Standard

Paint Color

Black

Tie-Downs

(4) 5/8" D-Rings Inside Bed to Secure Equipment

Along Sides and Rear for Cargo Control

Break-Away Kit

Complete Breakaway System w/ Zip Breakaway Cable

Battery

12V Deep Cycle

Charger

5A 110V on Board Battery Charger

Deck On Neck

Not Included

Removable Deck on the Neck- Bolt On (8' W x 6' L)

Gate

Double Rear Doors

J-Hooks

Along sides and rear for Cargo Control

Mudflaps

Standard

Power

Power Up/Gravity Down Movement

5 Watt Solar Charger

Wireless Remote

Ram

Self-Contained Scissor

Sides

48" Tall (12 Ga) with formed Channel Supports

Stabilizers

Rear Stabilizer Stands

Storage

Lockable Pump and Battery Box mounted between front Jacks

Tarp

Fully-Formed Tarp Shroud with Tarp

Crank Style Roll Tarp

Industrial Roll Tarp w/Side Flaps

Top Rail

4"x 2" Rectangular Tubing
Similar Products
Roll-Off Gooseneck Dump Trailer (and Bin)
---
Width: 83"
Length: 14'
GVWR: 15,900 lbs
Cargo Capacity: 13 lbs
---
View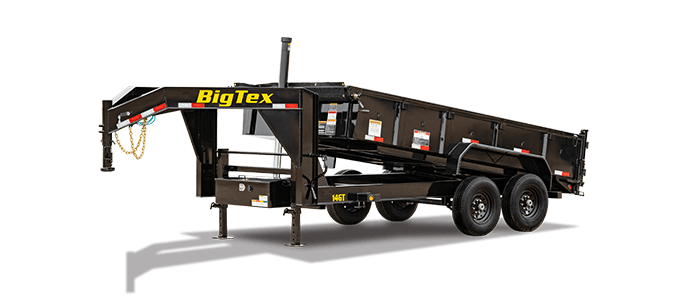 Heavy Duty Telescopic Gooseneck Dump
---
Width: 83"
Length: 14', 16'
GVWR: 15,900 lbs
Cargo Capacity: 7—8 lbs
---
View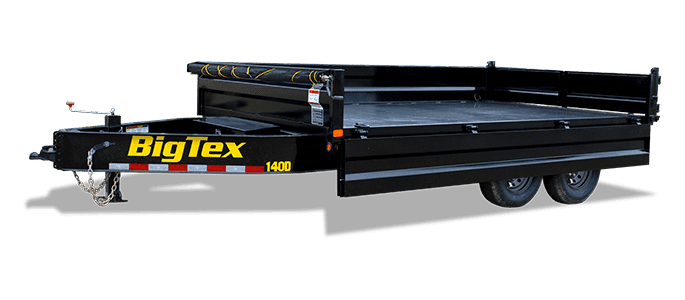 Heavy Duty Over The Axle Dump
---
Width: 96"
Length: 14'
GVWR: 14,000 lbs
Cargo Capacity: 6 lbs
---
View