70PI-X
Tandem Axle Pipe Utility Trailer
When it comes to hauling light-duty equipment on the farm or ranch, there's nothing more versatile than the 70PI-X Tandem Axle Pipe Top Utility Trailer. Coming standard with an extra wide 83'' wide deck, this trailer is built to transport small equipment and other loads for agricultural applications. It's sturdy. It's durable. It's dependable. It's everything you need in a cost-effective—yet adaptable—utility trailer that gets the job done from sunrise till sunset.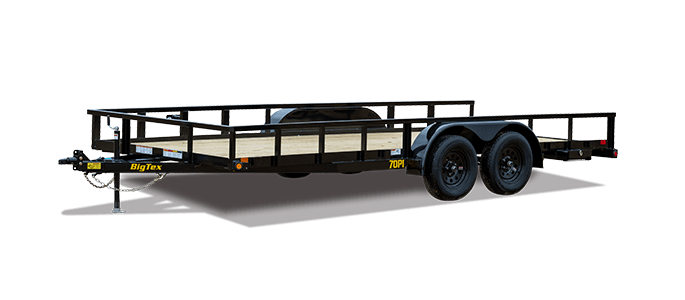 Effortless Maintenance

Forward, self-adjusting brakes make brake maintenance a breeze. The system automatically adjusts the brake shoes as they wear down, eliminating the need for manual adjustments.

Optional Rear Ramp Gate

Expand your hauling capabilities with an optional 4' tall rear ramp gate—ideal for transporting a variety of vehicles, including golf carts, ATVs, side-by-sides, and more.

Your Haul, Secured

Safely and conveniently secure your cargo with four tie-down loops inside the bed.

Sturdy 2" x 2" Pipe Top Rail

Constructed from 2"x 2" square tubing, its pipe top rail is built-strong for increased strength that's perfect for everyday hauling.
| Model | Pull Type | GVWR | Empty Weight | Cargo Capacity | Bed Length | Bed Width | A | B | C | Tongue Length |
| --- | --- | --- | --- | --- | --- | --- | --- | --- | --- | --- |
| 70PI-20X | Bumperpull | 7000 lbs | 2020 lbs | 4980 lbs | 20 | 83" | 240" | 138" | 102" | 44-1/2" |
| 70PI-18X | Bumperpull | 7000 lbs | 1940 lbs | 5060 lbs | 18' | 83" | 217-1/2" | 127" | 90-1/2" | 44-1/2" |
| 70PI-16X | Bumperpull | 7000 lbs | 1860 lbs | 5140 lbs | 16' | 83" | 193-1/2" | 115" | 78-1/2" | 44-1/2" |
| 70PI-14X | Bumperpull | 7000 lbs | 1780 lbs | 5220 lbs | 14' | 83" | 169-1/2" | 103" | 72-1/2" | 44-1/2" |
Standard Feature
Available Options
Axles

2 - 3,500# Premium, Cambered Axles with Quick-Lubricating Hubs

Brakes

Electric Brake on Front Axle

Electric Brakes on 2nd Axle

Suspension

Multi-Leaf Spring w/ Equalizer

Coupler

2" Demco EZ- Latch

2-5/16" Forged Coupler

2-5/16" Stamped Coupler

Safety Chains

1/4" Grd. 30 w/ Safety Latch Hook (2 ea)

Jack

2,000# Top Wind, Set-Back Jack with Removable Sand Foot

8,000# Drop-Leg Jack

2,000# Fold-Up Jack

Frame

4" x 3" x 1/4" Angle

Cross-Members

3" x 2" x 3/16" Angle

Floor

Treated Pine Floor

Blackwood Pro Rubber Infused Lumber Floor (per linear foot)

1/8" Diamond Plate Steel Floor (Per Square Foot)

Fenders

9" x 72" Rolled Formed w/ Back

Ramps

4' Slide-In Angle Ramps

4' Tall Bi-Fold Rear Ramp Gate w/ Coil Spring Assist

4' Tall Rear Ramp Gate w/ Coil Spring Assist

5' Stand Up Ramps

5' Tall Rear Ramp Gate w/ Coil Spring Assist

4' Heavy Duty Integrated Ramp Gate w/ Coil Spring

5' Heavy Duty Integrated Ramp Gate w/ Coil Spring

Stake Pockets

Additional Stake Pockets (Each)

Trailer Plug

7-Way RV

Lights

L.E.D. D.O.T. Stop, Tail, Turn & Clearance

Wiring

Grommet-Mounted Lifetime L.E.D. Lighting

Tires

ST205/75 R-15 Load Range C

Bolt Pattern

5 Bolt

Spare Mount

Side Spare Tire Mount

Spare Tire

Spare Tire (ST205/75R-15 LR-C)

Spare Tire (ST225/75R-15 LR-D)

Paint Type

Professional Finish w/ Primer Standard

Paint Color

Black

Red

Grey

White

Desert Tan

Jet Blue

Slime Green

Implement Green

Equipment Orange

Medium Yellow

Sides

17" Tall Open sides with 3"x 2" Angle uprights and 2" x 2" Square Tubing Top Rail

2' High Sides (Open, Total Height with Top Rail)

3' High Sides (Open, total height with Top Rail)

4' High Sides (Open, total height with Top Rail)

Car Hauler Style (No Side Rails)

Enclose Sides w/ Expanded Metal (Per Square Foot)

Enclose Sides w/ Sheet Metal (Per Square Foot)