22PH
Tandem Dual Wheel Pintle
Are you taking on heavy-duty towing jobs with a pintle hitch, but you need more strength? Upgrade to the big and strong 22PH Tandem Dual Wheel Pintle Trailer, a hauler that's ready to work hard all day long. Perfect for agricultural, construction, and landscaping, the 22PH performs in tough and rugged conditions with standard features such as two 10K axles, spare tire and wheel, LED lighting package, and a low-profile bed with a pierced-beam frame. And with 23,900 lbs G.V.W.R., it's purpose-built to haul substantial loads and heavy-duty equipment. Hard work pays off; and so does the 22PH.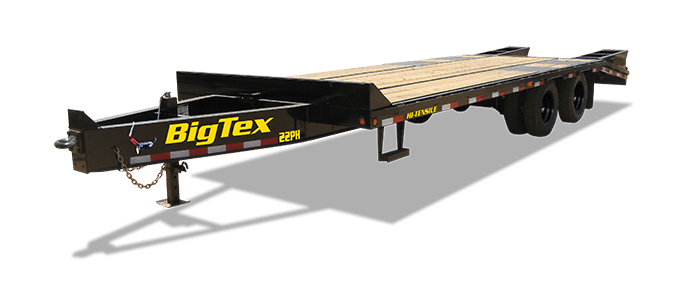 Effortless Maintenance

Forward, self-adjusting brakes make brake maintenance a breeze. The system automatically adjusts the brake shoes as they wear down, eliminating the need for manual adjustments.

Robust Adjustable Pintle Ring

A 3" ID Pintle ring coupler creates a strong, secure connection with tow vehicles equipped with pintle hitches.

Comprehensive Load Securement

A standard 3/8" rub rail, stake pockets, and 1-1/4" pipe chain spool secures your load to ensure safe and efficient transportation.

Optional Powerhouse Mega Ramps

Optimize your loading experience with heavy-duty, extra-wide ramps, designed to handle the demands of loading various types of equipment with ease.
| Model | Pull Type | GVWR | Empty Weight | Cargo Capacity | Bed Length | Bed Width | A | B | C | Tongue Length |
| --- | --- | --- | --- | --- | --- | --- | --- | --- | --- | --- |
| 22PH-25+5 | Bumperpull | 23900 lbs | 6100 lbs | 17800 lbs | 30' | 102" | 300" | 216" | 84" | 70" |
| 22PH-20+5 | Bumperpull | 23900 lbs | 5600 lbs | 18300 lbs | 25' | 102" | 240" | 180" | 60" | 70" |
Standard Feature
Available Options
Axles

2 - 10,000# Premium, Cambered Axles with Oil Bath and Valcrum Caps

Brakes

Forward Self-Adjusting Electric Brakes on Both Axles

Electric Over Hydraulic Brakes (Disc)

Electric Over Hydraulic Brakes (Drum)

Suspension

Heavy-Duty 30,000#, Adjustable

Coupler

3" ID Pintle Ring

Safety Chains

3/8" Grade 70 w/ Safety Latch Hook (2 ea)

Jack

12,000# Drop-Leg Jack (Top Wind)

Dual Single-Speed Drop-Leg Jacks

Dual 2-Speed Landing Gear

Dual Electric Over Hydraulic Jacks by Stillwell™

Frame

12" I-Beam

Cross-Members

3" Channel

Front Stop Rail

3/16" Fabricated Front Stop Rail

Floor

Treated Pine Floor

Blackwood Pro Rubber Infused Lumber Floor (per linear foot)

Ramps

5' Double Hinged, Spring Assisted Flip-Over Ramps

8' Rear Slide-In Ramps (Straight Deck Only)

(2) 5' MEGA Ramps

Dovetail

5' Cleated Dovetail

Stake Pockets

Stake Pockets Along Both Sides, 24" O.C. (Quantity Varies by Length)

Trailer Plug

7-Way RV

Lights

Recessed, Grommet-Mounted L.E.D. Lighting

Wiring

Sealed, Modular Cold-Weather Wiring Harness

Tires

ST235/80 R-16 Load Range E Radial Tires

Tire Upgrade (ST215/75 R-17.5 LR-H Dual) Includes Spare

Bolt Pattern

8-Lug

Spare Mount

Front Spare Tire Mount

Spare Tire

ST235/80 R-16 Load Range E Radial Tire

Paint Type

Professional Finish w/ Primer Standard

Paint Color

Black

Red

Grey

White

Desert Tan

Jet Blue

Slime Green

Implement Green

Equipment Orange

Medium Yellow

Rubrail

3/8" Heavy Duty Rub Rail

Tie-Downs

Extra 5/8" D-Rings

Break-Away Kit

Complete Breakaway System w/ Zip Breakaway Cable

Mudflaps

Standard

Storage

Lockable Lid Over Tool Storage in Tongue

Low Profile Tool Box 12" x 18" x 36" (Side Mount)

Cargo Winch

4" Sliding Winch (Each)

4" Weld-On Winch (Each)

Sliding Winch Track

Pipe Chain Spools

1-1/4" Pipe Chain Spools Between Stake Pockets Pockets

4" x 30' Strap

Side Rail

6" Channel

Steps & Handles

(2) Side Bed Steps