14ET
Heavy Duty Tandem Axle Equipment Trailer
Engineered to get the job done like no other, the 14ET Heavy Duty Tandem Axle Equipment Trailer delivers the versatility, durability, and strength required to take on the difficult demands of the heavy-duty hauling and equipment transportation. Ready to go for the longest and hardest hauls, it's the ideal heavy-duty trailer solution for construction workers, professional landscapers, farmers, and more.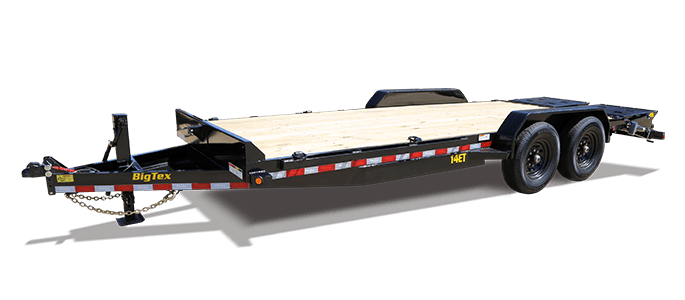 Heavy Duty Diamond Plate Steel Fenders

Built to stand up to whatever punishment is thrown at it, these fenders keep your trailer protected and are also removable to allow for easy replacement if damaged.

Effortless Maintenance

Forward, self-adjusting brakes make brake maintenance a breeze. The system automatically adjusts the brake shoes as they wear down, eliminating the need for manual adjustments.

Fast and Easy Hitching

The Demco EZ Latch Coupler is built to last and provides a fast and easy connection, and its automatic latching system securely locks when lowered—saving you both time and effort.
| Model | Pull Type | GVWR | Empty Weight | Cargo Capacity | Bed Length | Bed Width |
| --- | --- | --- | --- | --- | --- | --- |
| 14ET-24KR-GN | Gooseneck | 14000 lbs | 4140 lbs | 9860 lbs | 22' | 83" |
| 14ET-22KR-GN | Gooseneck | 14000 lbs | 3940 lbs | 10060 lbs | 22' | 83" |
| 14ET-20KR-GN | Gooseneck | 14000 lbs | 3740 lbs | 10260 lbs | 20' | 83" |
| 14ET-22KR | Bumperpull | 14000 lbs | 3140 lbs | 10860 lbs | 22' | 83" |
| 14ET-20KR | Bumperpull | 14000 lbs | 2940 lbs | 11060 lbs | 20' | 83" |
| 14ET-18KR | Bumperpull | 14000 lbs | 2740 lbs | 11260 lbs | 18' | 83" |
| 14ET-16KR | Bumperpull | 17500 lbs | 2540 lbs | 14960 lbs | 16' | 83" |
Standard Feature
Available Options
Axles

2 - 7,000# Premium, Cambered Axles with Quick-Lubricating Hubs

Brakes

Forward Self-Adjusting Electric Brakes on Both Axles

Suspension

Multi-Leaf Slipper Spring w/ Equalizer

Coupler

2-5/16" Ball, Adjustable Demco EZ Latch Coupler

2-5/16" Round Gooseneck Coupler on Gooseneck models

Adjustable Pintle in Channel in Lieu of Coupler

Safety Chains

3/8" Grade 70 w/ Safety Latch Hook (2 ea)

Jack

12,000# Drop-Leg Jack (Side Wind) Dual Jacks on Gooseneck Model

Frame

6" Channel

Cross-Members

3" Channel on 16" Centers

Front Stop Rail

3/16" Fabricated Front Stop Rail (Bumper Pull Only)

Floor

Treated Pine Floor

Blackwood Pro Rubber Infused Lumber Floor (per linear foot)

1/8" Diamond Plate Steel Floor (Per Square Foot)

Fenders

9" x 72" 14 Ga. Diamond Plate Double Broke w/ Back

Ramps

4' Tall, 16" Knee Ramps (Spring Assisted)

44" Wide Mega Ramps (Dovetail only)

5' Rear Slide-In Ramps (Straight Deck models only)

Super-Wide Ramps (60" Tall x XX" Wide)

Dovetail

3' Cleated Dovetail

Blackwood Pro Dovetail (Standard with Super-Wide Ramps)

Stake Pockets

Stake Pockets Along Both Sides (Quantity Varies by Length)

Trailer Plug

7-Way RV

Lights

Recessed, Grommet-Mounted L.E.D. Lighting

Wiring

Sealed, Modular Cold-Weather Wiring Harness

Tires

ST235/80 R-16 Load Range E Radial Tires

Tire Upgrade (ST235/80 R-16 LR-G)

Bolt Pattern

8-Lug

Spare Mount

Front Spare Tire Mount

Spare Tire

Not Included

Spare Tire & Wheel (ST235/80 R-16 LR-E)

Spare Tire Upgrade (ST235/80 R-16 LR-G)

Paint Color

Black

Red

Grey

White

Desert Tan

Jet Blue

Slime Green

Implement Green

Equipment Orange

Medium Yellow

Rubrail

Rub Rail Along Both Sides

Tie-Downs

(6) 5/8" D-Rings

Extra 5/8" D-Rings

Recessed D-Ring in Floor (Steel Floor Only)

Break-Away Kit

Complete Breakaway System w/ Zip Breakaway Cable

Storage

Tongue Tool Tray (Bumper Pull Only)

Lockable Toolbox Between Risers on Gooseneck Model