10ET
Pro Series Tandem Axle Equipment Trailer
When you need a jack of all trades that's a master of all your equipment hauling needs, the 10ET Pro Series Tandem Axle Equipment Trailer won't let you down. It brings excellent durability to the table when you're hauling light and medium duty equipment and features an 83"-wide deck, so the possibilities are nearly endless. And it's designed for safety and performance down to the last bolt, whether you're driving or loading. It's got forward self-adjusting brakes for easier brake maintenance, plus a cleated dovetail design so you can confidently load equipment without slipping. When you combine innovation, durability, and versatility, this trailer is what you get.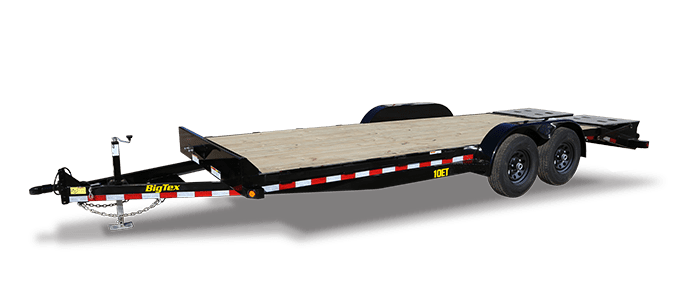 Effortless Maintenance

Forward, self-adjusting brakes make brake maintenance a breeze. The system automatically adjusts the brake shoes as they wear down, eliminating the need for manual adjustments.

Get a Grip While You Load

Get a boost of confidence as you load in or out with our 36" cleated dovetail. It provides excellent traction and prevents slipping, keeping you moving through your task smoothly.

Use Every Last Bit of Space

As you load in your equipment, you can confidently go all the way to the front with a fabricated front stop rail. It'll prevent cargo from sliding off, protect your vehicle from damage, AND includes a spare tire mount!

4' Stand-Up Knee Ramps

With a convenient height and a fold-up functionality, our stand-up knee ramps make it easy to load vehicles and equipment onto your trailer, and they don't get in the way.
| Model | Pull Type | GVWR | Empty Weight | Cargo Capacity | Bed Length | Bed Width | A | B | C | Tongue Length |
| --- | --- | --- | --- | --- | --- | --- | --- | --- | --- | --- |
| 10ET-20KR | Bumperpull | 9990 lbs | 2520 lbs | 7470 lbs | 18' | 83" | 240" | 138" | 102" | 56-3/4" |
| 10ET-18KR | Bumperpull | 9990 lbs | 2420 lbs | 7570 lbs | 16' | 83" | 217-1/2" | 127" | 90-1/2" | 56-3/4" |
| 10ET-16KR | Bumperpull | 9990 lbs | 2320 lbs | 7670 lbs | 16' | 83" | 193-1/2" | 115" | 78-1/2" | 56-3/4" |
Standard Feature
Available Options
Axles

2 - 5,200# Premium, Cambered Axles with Quick-Lubricating Hubs

Brakes

Forward Self-Adjusting Electric Brakes on Both Axles

Suspension

Multi-Leaf Slipper Spring w/ Equalizer

Coupler

Adjustable Forged 2-5/16"

Adjustable Pintle in Channel in Lieu of Coupler

Safety Chains

1/4" Grade 70 w/ Safety Latch Hook (2 ea)

Jack

8,000# Set-Back, Drop-Leg Jack

Frame

5" Channel

Cross-Members

3" Channel

Front Stop Rail

3/16" Fabricated Front Stop Rail

Floor

Treated Pine Floor

Blackwood Pro Rubber Infused Lumber Floor (per linear foot)

1/8" Diamond Plate Steel Floor (Per Square Foot)

Fenders

Tear Drop Removable

Ramps

4' Tall, Channel Knee Ramps

5' Rear Slide In Ramps (Straight Deck w/ Stabilizers)

3' Mega Ramps

Dovetail

3' Cleated Dovetail

Stake Pockets

Stake Pockets Along Both Sides (Quantity Varies by Length)

Trailer Plug

7-Way RV

Lights

Recessed, Grommet-Mounted L.E.D. Lighting

Wiring

Sealed, Modular Cold-Weather Wiring Harness

Tires

ST225/75 R-15 Load Range D Radial Tires

Bolt Pattern

6-Lug

Spare Mount

Front Spare Tire Mount

Spare Tire

Not Included

Spare Tire & Wheel (ST225/75 R-15 LR-D)

Paint Type

Professional Finish w/ Primer Standard

Paint Color

Black

Red

Grey

White

Desert Tan

Jet Blue

Slime Green

Implement Green

Equipment Orange

Medium Yellow

Rubrail

Rub Rail Along Both Sides

Tie-Downs

(6) 5/8" D-Rings

Extra 5/8" D-Rings

Recessed D-Ring in Floor (Steel Floor Only)

Break-Away Kit

Complete Breakaway System w/ Zip Breakaway Cable