14OA
Heavy Duty Over-The-Axle Bumperpull
Wider and stronger is the name of the game for the 14OA Heavy Duty Over-The-Axle Bumperpull Trailer. With a 102'' wide deck and a 14,000 lbs G.V.W.R., this heavy-duty deck-over trailer is built with the space and strength that haulers demand. Available in multiple lengths (16', 18', and 20') and equipped with standard 8' slide-in ramps, the 14OA works hard for those hauling pallets and medium-weight equipment. It's spacious and strong, and it's ready to get the job done—are you?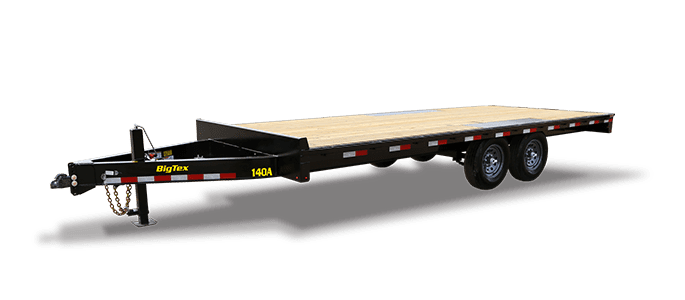 Fast and Easy Hitching

The Demco EZ Latch Coupler is built to last and provides a fast and easy connection, and its automatic latching system securely locks when lowered—saving you both time and effort.

Keep Your Haul Secured

Safeguard cargo with a solid one-piece stop rail and reliable d-ring tie downs, specifically designed to provide maximum security and stability during loading and towing.

Convenient Storage

An integrated storage tray in the tongue area provides additional organizational space.
| Model | Pull Type | GVWR | Empty Weight | Cargo Capacity | Bed Length | Bed Width | A | B | C | Tongue Length |
| --- | --- | --- | --- | --- | --- | --- | --- | --- | --- | --- |
| 14OA-21+3 | Bumperpull | 14000 lbs | 4180 lbs | 9820 lbs | 24' | 102" | | | | 63-1/4" |
| 14OA-19+3 | Bumperpull | 14000 lbs | 3890 lbs | 10110 lbs | 22' | 102" | 264' | 150' | 114' | 63-1/4" |
| 14OA-17+3 | Bumperpull | 14000 lbs | 3680 lbs | 10320 lbs | 20' | 102" | 240" | 138" | 102" | 63-1/4" |
| 14OA-24 | Bumperpull | 14000 lbs | 4050 lbs | 9950 lbs | 24' | 102" | | | | 63-1/4" |
| 14OA-22 | Bumperpull | 14000 lbs | 3850 lbs | 10150 lbs | 22' | 102" | 264' | 150' | 114' | 63-1/4" |
| 14OA-20 | Bumperpull | 14000 lbs | 3650 lbs | 10350 lbs | 20' | 102" | 240" | 138" | 102" | 63-1/4" |
| 14OA-18 | Bumperpull | 14000 lbs | 3450 lbs | 10550 lbs | 18' | 102" | 217-1/2" | 127" | 90-1/2" | 63-1/4" |
| 14OA-16 | Bumperpull | 14000 lbs | 3250 lbs | 10750 lbs | 16' | 102" | 193-1/2" | 115" | 78-1/2" | 63-1/4" |
Standard Feature
Available Options
Axles

2 - 7,000# Premium, with Quick-Lubricating Hubs

Brakes

Forward Self-Adjusting Electric Brakes on Both Axles

Suspension

Multi-Leaf Slipper Spring w/ Equalizer

Coupler

2-5/16" Ball, Adjustable Demco EZ Latch Coupler

Adjustable Pintle in Channel in Lieu of Coupler

Safety Chains

1/4" Grd. 70 w/Safety Latch Hook (2 each)

Jack

12,000# Drop-Leg Jack (Top Wind)

Frame

8" I-Beam (10#)

Cross-Members

3" x 3.5" Channel

Front Stop Rail

3/16" Fabricated Front Stop Rail

Floor

Treated Pine Floor

Blackwood Pro Rubber Infused Lumber Floor (per linear foot)

Ramps

5' HD Stand Up Ramps (Standard Equipped on "+3" Models)

8' Slide In Ramp Package

Stake Pockets

Stake Pockets Along Both Sides, 24" O.C. (Quantity Varies by Length)

Trailer Plug

7-Way RV

Lights

Recessed, Grommet-Mounted L.E.D. Lighting

Wiring

Sealed, Modular Cold-Weather Wiring Harness

Tires

ST235/80 R-16 Load Range E Radial Tires

Tire Upgrade (ST235/80 R-16 LR-G)

Bolt Pattern

8-Lug

Spare Mount

Front Spare Tire Mount

Spare Tire

Spare Tire & Wheel (ST235/80 R-16 LR-E)

Spare Tire Upgrade (ST235/80 R-16 LR-G)

Paint Type

Professional Finish w/ Primer Standard

Paint Color

Black

Red

Grey

White

Desert Tan

Jet Blue

Slime Green

Implement Green

Equipment Orange

Medium Yellow

Rubrail

Rub Rail Along Both Sides

Tie-Downs

Extra 5/8" D-Rings

Break-Away Kit

Complete Breakaway System w/ Zip Breakaway Cable

Storage

Storage Tray in Tongue

Side Rail

5" Channel