25GN-HDTS
Heavy Duty Tandem Dual Wheel Gooseneck w/ Hydraulic Dovetail
For those dealing with the heaviest hauls in construction and industrial operations, you need a trailer that doesn't back down from any challenge. You need the 25GN-HDTS Heavy Duty Tandem Dual Wheel GN Hydraulic Dovetail Trailer, specifically designed and built for those who transport extremely heavy equipment and machinery. Equipped with 12K heavy-duty axles and premium adjustable suspension, the 25GN-HDTS has a 25,900 lbs G.V.W.R. in order to handle the biggest jobs. It's also why we outfitted this powerful and durable trailer with a standard low-profile pierced-beam frame, LED lights, adjustable dual jacks, and a crank-style adjustable coupler; everything a professional needs to finish their workday. Because when a load is large, the 25GN-HDTS answers the call.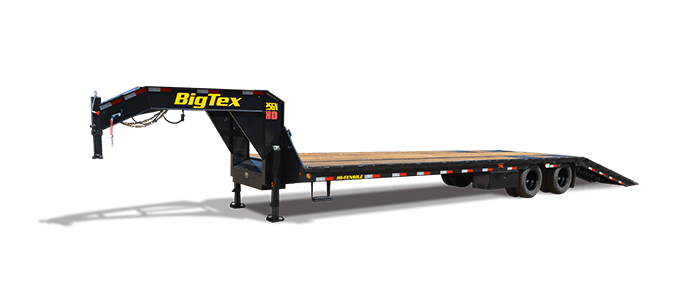 Pipe Spools, Rub Rail and Stake Pockets

Equipped with heavy duty 3/8" side rails, stake pockets, and chain spools to maximize your ability to secure and protect whatever you're hauling.

Oil Bath Axles with Forward Self Adjusting Brakes and Valcrum Caps

Designed with reliability in mind, these axles provide long-term durability and hauling strength along with being easier to maintain.

Heavy-Duty Adjustable Suspension

Standard equipped with a heavy duty adjustable suspension to handle the biggest loads.

Hydraulic Dovetail

Standard 9' cleated dovetail (with wood between the runners) features a lifting capacity of approximately 8,000 lbs and carrying capacity of 4,000 lbs.
| Model | Pull Type | GVWR | Empty Weight | Cargo Capacity | Bed Length | Bed Width | A | B | C | Tongue Length |
| --- | --- | --- | --- | --- | --- | --- | --- | --- | --- | --- |
| 25GN-40-HDTS | Gooseneck | 25900 lbs | 9920 lbs | 15980 lbs | 40' | 102" | 372" | 319" | 53" | 97" |
| 25GN-35-HDTS | Gooseneck | 25900 lbs | 8960 lbs | 16940 lbs | 35' | 102" | 312" | 259" | 53" | 97" |
Standard Feature
Available Options
Axles

2 - 12,000# Dual Wheel w/ Oil Bath & Valcrum Caps

Brakes

Forward Self-Adjusting Electric Brakes on Both Axles

Air Brake Assembly w/ABS on Front, Spring Brake Chambers & Auto Slacks

Electric Over Hydraulic Brakes (Disc)

Electric Over Hydraulic Brakes (Drum)

Suspension

Heavy-Duty 30,000#, Adjustable

Coupler

2-5/16" Ball, Adjustable Square Crank

Safety Chains

3/8" Grade 70 w/ Safety Latch Hook (2 ea)

Jack

Dual Two Speed Landing Gear- 50K lbs. Capacity (Bolted On)

Dual Electric Over Hydraulic Jacks by Stillwell™

Frame

12" I-Beam, 19#

Cross-Members

3" Channel

Floor

Treated Pine or Douglas Fir

Stake Pockets

Stake Pockets Along Both Sides, 24" O.C. (Quantity Varies by Length)

Trailer Plug

7-Way RV

Lights

Recessed, Grommet-Mounted L.E.D. Lighting

Wiring

Sealed, Modular Cold-Weather Wiring Harness

Tires

ST235/80 R-16 Load Range E (Dual)

Tire Upgrade (ST215/75 R-17.5 LR-H Dual) Includes Spare

Bolt Pattern

8-Bolt

Spare Mount

Top of Neck Spare Tire Mount

Spare Tire

ST235/80 R-16 Load Range E (Included)`

Paint Type

Professional Finish w/ Primer Standard

Paint Color

Black

Rubrail

3/8" Heavy Duty Rub Rail on Both Sides

Break-Away Kit

Complete Breakaway System w/ Zip™ Breakaway Cable and Charger

Mudflaps

Standard

Storage

Lockable Side Mount Tool Box/ Housing Power Unit Box

Lockable Toolbox between uprights

Low Profile Tool Box 12" x 18" x 36" (Side Mount)

Removable Deck on the Neck- Bolt On (8' W x 6' L)

Cargo Winch

Sliding Winch Track

4" Sliding Winch (Each)

4" Weld-On Winch (Each)

Sliding Winch Track (Per 6' Section), for trailers less than 33' long

Hydraulic Dovetail

9' Hydraulic dovetail-wood-filled center with cleated runners (8,000# lifting capacity, 4,000# Carrying Capacity from middle of dovetail forward)

Pipe Chain Spools

1-1/4" Pipe Chain Spools Between Stake Pockets Pockets

4" x 30' Strap

Extra 5/8" D-Rings

Steps & Handles

(2) Side Bed Steps + Handles

Torque Tube

Standard Equipped