10OA
Pro Series Over-The-Axle Bumperpull Trailer
Does your day-to-day work involve transporting pallets or medium-weight equipment? Then the 10OA Pro Series Over-The-Axle Bumperpull Trailer is made for you. A versatile deck-over trailer that's also affordable, the 10OA is designed to efficiently and securely haul your load using the entire width of the trailer. A 102'' low-profile bed for easier loading and unloading, I-beam frame and integral tongue for added strength and durability, and an adjustable coupler for a secure and reliable connection, this highly versatile trailer works hard to help make your daily operations a little easier.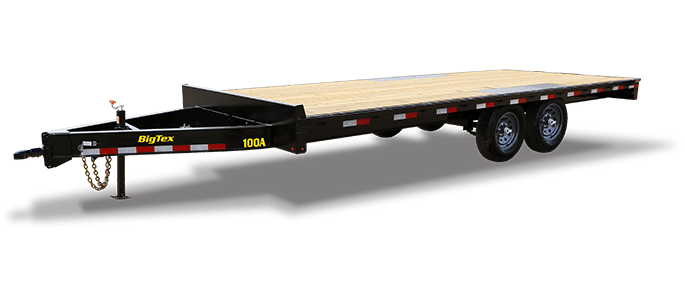 Effortless Maintenance

Forward, self-adjusting brakes make brake maintenance a breeze. The system automatically adjusts the brake shoes as they wear down, eliminating the need for manual adjustments.

Keep Your Haul Secured

Safeguard cargo with a solid one-piece stop rail and reliable d-ring tie downs, specifically designed to provide maximum security and stability during loading and towing.

Convenient Storage

An integrated storage tray in the tongue area provides additional organizational space.

Connected with Confidence

Hook up and go with an adjustable forged coupler, built for durability and to securely connect to your tow vehicle.
| Model | Pull Type | GVWR | Empty Weight | Cargo Capacity | Bed Length | Bed Width | A | B | C | D |
| --- | --- | --- | --- | --- | --- | --- | --- | --- | --- | --- |
| 10OA-21+3 | Bumperpull | 9990 lbs | 4160 lbs | 5830 lbs | 24' | 102" | | | | 63-1/4" |
| 10OA-19+3 | Bumperpull | 9990 lbs | 3870 lbs | 6120 lbs | 22' | 102" | | | | 63-1/4" |
| 10OA-17+3 | Bumperpull | 9990 lbs | 3660 lbs | 6330 lbs | 20' | 102" | | | | 63-1/4" |
| 10OA-20 | Bumperpull | 9990 lbs | 3240 lbs | 6750 lbs | 20' | 102" | 240" | 138" | 102" | 63-1/4" |
| 10OA-18 | Bumperpull | 9990 lbs | 3085 lbs | 6905 lbs | 18' | 102" | 217-1/2" | 127" | 90-1/2" | 63-1/4" |
| 10OA-16 | Bumperpull | 9990 lbs | 2930 lbs | 7060 lbs | 16' | 102" | 193-1/2" | 115" | 78-1/2" | 63-1/4" |
Standard Feature
Available Options
Axles

2 - 5,200# Premium, Cambered Axles with Quick-Lubricating Hubs

Brakes

Forward Self-Adjusting Electric Brakes on Both Axles

Suspension

Multi-Leaf Slipper Spring w/ Equalizer

Coupler

Adjustable Forged 2-5/16"

Adjustable Pintle in Channel in Lieu of Coupler

Safety Chains

1/4" Grd. 70 w/Safety Latch Hook (2 each)

Jack

8,000# Set-Back, Drop-Leg Jack

Frame

8" I-Beam (10#)

Cross-Members

3" x 3.5" Channel

Front Stop Rail

3/16" Fabricated Front Stop Rail

Floor

Treated Pine Floor

Blackwood Pro Rubber Infused Lumber Floor (per linear foot)

Ramps

5' HD Stand Up Ramps (Standard Equipped on "+3" Models)

8' Slide In Ramp Package

Stake Pockets

Stake Pockets Along Both Sides, 24" O.C. (Quantity Varies by Length)

Trailer Plug

7-Way RV

Lights

Recessed, Grommet-Mounted L.E.D. Lighting

Wiring

Sealed, Modular Cold-Weather Wiring Harness

Tires

ST225/75 R-15 Load Range D Radial Tires

Bolt Pattern

6-Lug

Spare Mount

Front Spare Tire Mount

Spare Tire

Spare Tire (ST225/75R-15 LR-D)

Paint Type

Professional Finish w/ Primer Standard

Paint Color

Black

Red

Grey

White

Desert Tan

Jet Blue

Slime Green

Implement Green

Equipment Orange

Medium Yellow

Rubrail

Rub Rail Along Both Sides

Tie-Downs

Extra 5/8" D-Rings

Break-Away Kit

Complete Breakaway System w/ Zip Breakaway Cable

Storage

Storage Tray in Tongue

Side Rail

5" Channel